Emily Ohland is a fused glass artist who lives  in West Lafayette, Indiana. She is proud mom to Everett, Carson and Allie and a variety of fur kids. She earned a Bachelor of Science Degree in Music Education from College of St. Rose, Albany New York. In addition to her career as a musician and music teacher she has always been pursuing artistic endeavors. For several years she owned a paint your own pottery and glass fusing studio and that's how her career as a fused glass artist began. She has been working with glass since 2007. All of her work is created in her in-home studio which has taken over most of the basement!
She as shown her work in Lafayette, West Lafayette and Indianapolis, Indiana as well as Louisville, Kentucky. She has participated in invitational garden and art shows, juried shows and has had her work displayed at L. E. Originals gallery in Lafayette, Indiana. Se makes a variety of items including jewelry, cabinet hardware (which she calls cabinet jewelry), back splashes, custom tiles, fine art, home decor, functional art, garden art and  large multimedia art installations. Her favorite thing to do is work with art enthusiastic clients to create something unique and special for their space.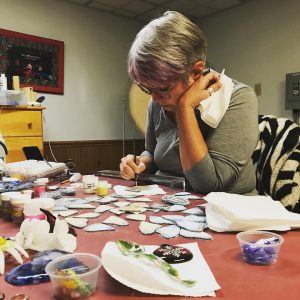 Fused glass, kiln formed glass and warm glass are all different ways of talking about the process of taking flat sheets of 2 or 3 mm glass and creating art out of them by melting them in a kiln. I begin with an item in mind and use many factors to decide how to approach a particular project.
All creations begin at my cutting table. Here is where I score and break glass to make shapes for my design. Sometimes it is as simple as a rectangle of clear glass that I will be using to enamel paint. Those pieces then travel to my other work area to be enameled. Sometimes it is organic shaped petals of an intended standalone flower. Designs come in many forms from those that I have purchased for inspiration to those that have come to fruition by pre-sketching and contemplation. I find that some of my best work is created in the moment right there at my table.
After the design begins to develop several things can happen. The direction I go next involves decision making about the thickness of the piece and it's intended purpose. Much of my stand alone art is created from a single 2 mm or 3 mm thickness and as a result is quite fragile. This works great for organic shapes like butterflies and flowers. It is also great for fine art pieces that won't see daily use or are intended as wall or shelf art. However, functional art needs to be more hearty and substantial so those pieces are 6mm thick and sometimes more.
I use both free form molding and pre-made ceramic molds in my process, it just depends on what I'm doing. Some garden art is created using floral and insect molds and panels are created using free form design. All vessels such as bowls, plates and platters have to be fired on a mold to achieve the shape. This is one of the things I love about this medium is that it is so very versatile and I'm not locked into one process on a day-to-day basis.
After a design comes to life on my glass design or enamel design tables I place the glass (sometimes MANY pieces of glass) into the kiln to fire. Firing is a complicated formula of heating the glass at a regular speed to certain critical temperatures and holding it for periods of time appropriate to the piece's size and thickness for the desired end affect. Most pieces require multiple trips to the kiln. Anything that is other than a flat piece has been to the kiln at least twice and often more times than that. Multiple firings are required to create depth, allow for binders in enamel pieces to fire off before putting layers together and to create organic or functional shapes for the pieces. Jewelry is often formed in a larger scale color design and then specific shapes cut and ground to then sent back into the kiln to have the edges returned to their shine.
Before a piece is complete and ready to be used by you it must be cleaned, signed, mounted on hardware, framed, have findings added etc. Signatures on all pieces except fine art are created using a diamond bit to etch in the surface of the glass. Much of the jewelry has custom bead work to enhance the design. I do all of this work myself so not only am I a designer and glass artist but I am a more than average tool and assembly technician.
Every piece from my studio has been through hours of contemplation, design, firings, assembly and finally comes to life as a one of a kind work of art that is intended for you to enjoy.