A couple of years ago a childhood friend contacted me and asked if I would be able to make a sun catcher of her mom's cat. Mom was aging and LOVED her kitty and as we all struggle to find special gifts for our aging loved ones, Marcia thought that this would be a nice gift.
I said I would be very happy to create a special gift for Marcia's mom. I asked her to send me reference photos for the cat. Now, my potential clients, the better the photo you send, the better the likeness I will be able to achieve. I know that our pets are often moving targets but find the best photos you have to share.
Here is the photo I started with: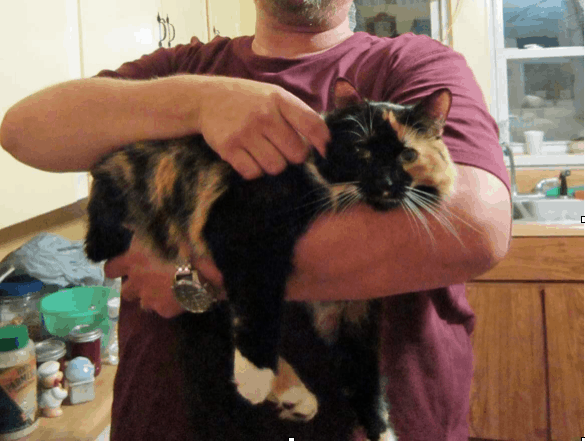 It was the best one of several that I started with after asking for more photos. I need a full face with some expression (this poor kitty looks less than enthused but I was reassured that this is as good as it gets with this particular feline!).
I then get busy by creating a pattern with pieces for the glass from a sketch or sometimes blow up and tracing that I do with the photo. Regrettably I don't have any photos of this part of my process. If you think about how a quilter creates a pattern with pieces of paper, it is a very similar process.
I had already discussed with Marcia what size and shape sun catcher she wanted via Facebook messenger. I sent her some sizes, shapes and price ranges and she chose based on that list. Then, I got down to the fun part of designing the glass. First I use a base layer in the size and shape specified and then, in the case of this kitty, I cut out ears and then because of her super fluffy self I used many pieces of glass that I shaped in the general direction of her fur. You can see from the photo that there are all sizes and shapes of glass here to get my desired effect.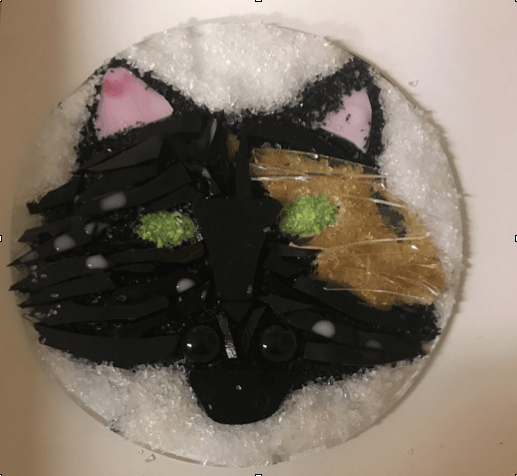 Next I fired the sun catcher to a contour fuse such that some of the texture of the glass was still there. After it cooled (that whole process takes about 10-15 hours), I used glass enamels and new pieces of glass to add some details to the kitty.
After adding those details, the piece went back into the kiln for another firing and cooling.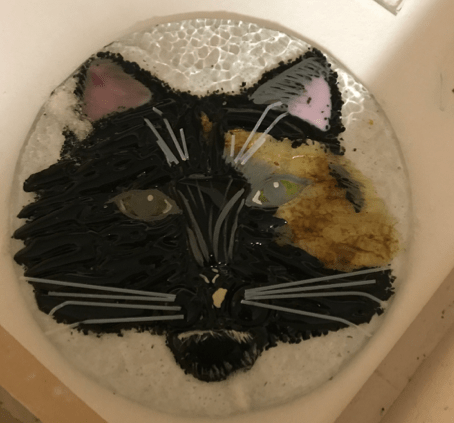 When the piece had cooled from the second firing I used a diamond core drill bit to make a hole for hanging and added a custom designed copper wire hanger. Here is the finished kitty as she looked before I packaged her in lots of bubble wrap and mailed her off for delivery.